ARNOLD CLASSIC AUSTRALIA MARCH 13, 14 & 15 2015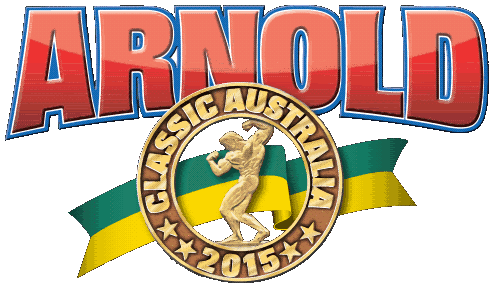 Weigh in times for Arnold Classic
Flights A,B and C; 10am -11.30am 12/03/15
8am - 9am 13/03/15
Flights D and E; 10am - 11.30am 13/03/15
8am - 9am 14/03/15
Flight F; 10am - 11.30am 14/03/15
8am - 9am 15/03/15
Bench press only, Flights A and B; 12 - 1.30pm 14/03/15
10am - 11am 15/03/15
Any lifter wishing to weigh in between the 24hr and 2hr time slots, please contact Shane Naylor to arrange a time. Ph: 0422240407, This email address is being protected from spambots. You need JavaScript enabled to view it..
IMPORTANT NOTICE FOR FLIGHTS A,B and C!!!
The 10am weigh in on 12/03/15 will be held in The Ink Well.
This is a small building adjacent to Door 1 of the venue.
All other weigh ins will be in the powerlifting area inside the venue.
Final flights for Arnold Classic Australia
ARNOLD CLASSIC – POWERLIFTING – FRIDAY 13 MARCH
Lifting commences 10:00am
FLIGHT A- FEMALE 48KG- 60KG
Leigh Perry
Kristy Iervasi
Patricia Viola
Jess Middleton
Yvonne Wagstaff
Feng Yi Chew
Tiarna Davis
Sharon Wilkins
Jannica Pineda
Annette Fatone
Chloe Wearing
FLIGHT B- FEMALE 67.5KG- SHW
Kalo Lowe
Maria Barba
Kate Mitchell
Ashleigh Waldheim
Jessica Ngarotata
Chleo Van Wyk
Anna Khudayarov
Jai Stone
Anita Millington
Riskarella Prime
Greer Hunt
FLIGHT C- MALE 52KG- 82.5KG
William Bright
Sam McBain
Lyndon Le
Peter Mansfield
Greg Hills
Jason Young
Jim Ambrose
Aleksander Petkovic
Ray Carlisle
Daniel Weir
Robert Harniman
Aaron Visona
ARNOLD CLASSIC – POWERLIFTING – SATURDAY 14 MARCH
Lifting commences 10:00am
FLIGHT D- MALE 90KG- 110KG
David Tran-Cong
Brian Jarrott
Vince Simonetta
Reno Borg
Matthew Middleton
Shannon Jacobsen
Alex Deken
Martin Munoz
Chris Bulmer
Cory Burrows
FLIGHT E- MALE 110KG- 125KG
Peter Weatherall
Paul Hampton
Barry Murray
Steve Brown
Joe Zollo
Wayne Howlett
Darren Farrow
Paul Nay
Shane Naylor
Cass Mailhot
Alan Kissick
ARNOLD CLASSIC – POWERLIFTING – SUNDAY 15 MARCH
Lifting commences 10:00am
FLIGHT F- MALE 125KG- SHW
Zahir Khudayarov
Geordie Shields
Michael Nicholas
Will Hunt
Conrad Galuvao
Luke Mayne
Mike Jones
Lee Glenister
ARNOLD CLASSIC – BENCHPRESS ONLY – SUNDAY 15 MARCH
FLIGHT A- MALE & FEMALE 52KG- 82.5KG
Feng Yi Chew
Alex Smith
Gabriella Antonini
Julia Bazylevich
Anna Kurkurinia
Lucie Thompson
Nick Allie
Nizami Yuzbegov
Ange Galati
Steve Ross
Michael Lee
Paul Belli
FLIGHT B- MALE 100KG- SHW
Jay Tyler
Oleg Bazylevich
Laird Ross
Brendan Hains
Anton Begalko
Nathan Rocks
Wayne Bennett
Shannon Florrisson
Zahir Khudayarov
Shaune Howlett
Lazlo Mezaros
Adrian Tullo
Shaun Bostock
---
Qualifying for the ARNOLD CLASSIC Australia 2015
A "fair and reasonable" approach to qualifying for this event that the following will be implemented -

• A ranking structure for all Lifting Categories pertaining to 3 Lift Competitions and Bench Only Competitions.

Based upon-

Invitee successfully competing in a CAPO Sanctioned Event in the 2014 calendar year in the relevant 3 or single lift competition as per their invitation. i.e. you cannot qualify for a single lift with the results from a 3 lift competition or vice versa.

Category requirements will be in line with GPA & IPO guidelines -

Acknowledging that "stage time" at the event is critical the CAPO has had to restrict the amount of competitors to approximately 100 therefore only the top competitors from each category will be considered for an invitation.

Any other subsequent invitation/s will be at the discretion of the committee.
 
Please remember this event is INVITE ONLY.